Wednesday, July 26, 2017
In each July, Fidel continues to guide Cuba toward biggest endeavors
---
---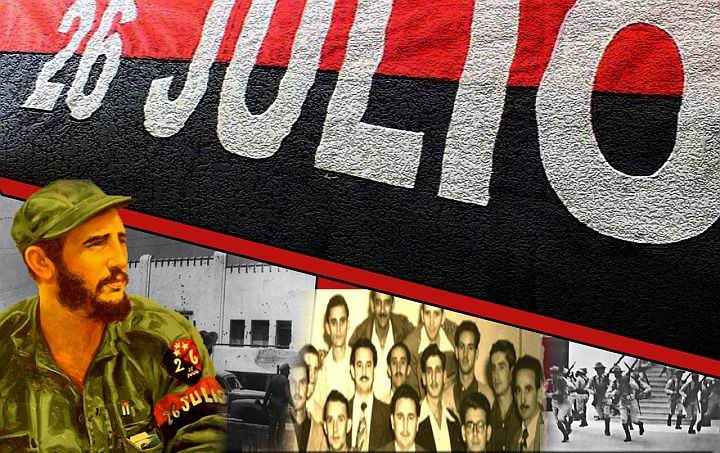 On this day we commemorate the anniversary 64 of the assaults to the Moncada barrack, in Santiago de Cuba, and Carlos Manuel de Céspedes, in Bayamo, immersed in the materialization of the postulates for which gave its life for that heroic generation.
And although on July 26 of MIL 953 could not take the bastion of the tyranny, the importance of the event shocked the country, revealing a strong young force, the continuity of the revolutionary struggle and the popular leading role as the center of the actions.
The commitment of social justice and equity that guided the thought and the action of the generation of the Centenary of the Apostle of the Independence, José Martí, determined to conquer by means of the armed struggle the respect to the human dignity, independence, sovereignty and decorum, encouraged in each one of the transformations in all spheres of economic and social life of the country.
The clarinet sound of the Morning of Santa Ann comes out its historical moment, because it is perpetuated in the multiplied work of the Cuban Revolution, on having demonstrated with facts that the big dreams of yesterday, are a palpable reality today.
Only in the Camagüey province, to the Day of the National Rebelliousness we come with more than half a thousand of concluded economic and social works, or in development, in key sectors as: the health, the education, the infrastructure of the tourism, and in areas destined to increase the food production, what it allows also, to replace imports.
There are these, some of the battles of our days. As immense as attainable, and focused towards the promising future that encouraged the Moncadistas and that we have the moral duty to keep on materializing for the future generations.
Another transcendent call we have ahead the Cuban, who in the next months, we will give to the world another demonstration of unit, popular participation and transparence, in the election process 2017-2018, which in September of the current year will be a decisive moment: the nomination of candidates in the community..
It will be undoubtedly, another Cuban participative democracy lesson, foreign to stereotypes made beyond the seas, to the measurement of interests of richer and richer minorities, to the detriment of more and more impoverished majorities.
In the selection of our representatives in the government, from the base up to the parliament; in every job; in the complete fulfillment of the task that corresponds to us, the permanent homage is in who more than six decades ago planted the seed, led by Fidel, whose example, revolutionary intransigence and steadfastness will keep on inspiring our conquests for the ways of the Victory.
Eternal Glory to the martyrs of the Moncada, and to our unconquered Commander in Chief Fidel Castro Ruz!