Friday, October 23, 2020
Cuban FM to speak in debate on the blockade organized by the Puebla Group
---
---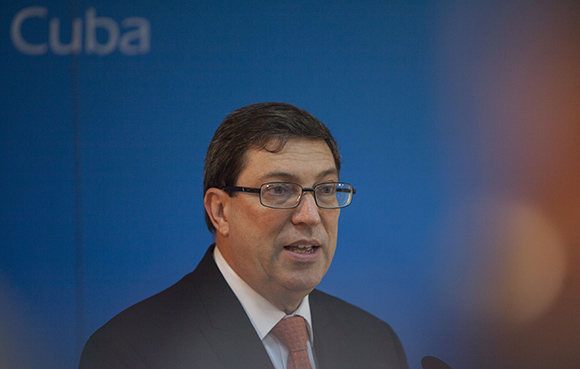 Havana, Oct 23.- Bruno Rodríguez Parrilla, Minister of Foreign Relations of Cuba, will participate in the virtual workshop Cuba: blockades and sanctions, organized by the Puebla Group, which will be broadcast through the Facebook Live platform this Friday.
The Puebla Forum itself has announced through its official pages that the meeting will also be attended by the former Foreign Minister of Brazil, Celso Amorim, who has asked on more than one occasion to end the economic, financial and commercial blockade that the United States maintains against Cuba.
"Cuba: blockades and sanctions. There is little left! Friday is the IV Workshop of the # GrupoDePuebla, where Bruno Rodríguez, Foreign Minister of Cuba, and the former Foreign Minister of Brazil Celso Amorim will present. This time it will be broadcast on Facebook Live" explains one of the messages related to the appointment that the organization has issued through Twitter.
The Puebla Group is a political and academic forum made up of representatives of the Ibero-American political left, which, founded on July 12, 2019 in the Mexican city of Puebla, defines itself as a space for reflection and political exchange.
As recently as October 7, the organization defended the truth about the participation of the Caribbean country in the More Doctors Brazil Program, an action that the Cuban Foreign Minister thanked.
The Puebla Group applauded Cuba's humanitarian effort in providing health services to underserved populations in dozens of countries and especially in the current situation of the Covid-19 pandemic.
Through his account on the social network Twitter, Rodríguez Parrilla acknowledged the complaint by that political and academic forum of the campaign promoted by the United States government to discredit Cuban medical cooperation. (ACN) (Photo: File)