Wednesday, December 9, 2020
1st. International Virtual Camagua Folk Dance Festival starts today
---
---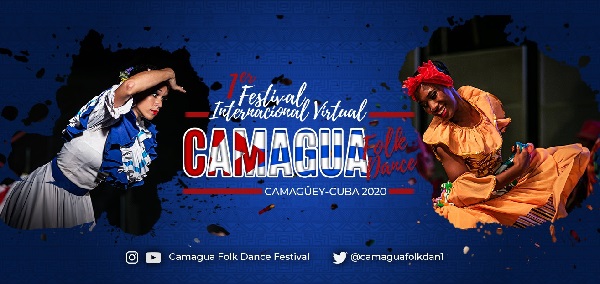 Camagüey, Dec 9.- The 1st. International Virtual Camagua Folk Dance Festival, will take place from today until the 11th of this month in Camagüey, as part of the activities that take place in the world on the occasion of the 50th anniversary of the International Council of Organizations of Folklore and Arts Festivals Tradicionales (Cioff), to which Cuba belongs.
The Camagua Folkloric Company, directed by maestro Fernando Medrano, has been in charge of promoting this event, which will take place at the Avellaneda Theater in the city, supported by the Provincial Center of Music and the Jorge Luis Betancourt shows, the Cuban Institute of Music, the National Council of Houses of Culture and the Provincial Sector of Culture of Camagüey.
Broadcasting to the world through the Facebook Live platform and YouTube channel, the Festival will have the participation of 40 groups from the same number of countries, who sent their videos, which, in addition, will be able to be enjoyed by the public that physically attends to the Avellaneda Theater. "They are groups with which Camagua has shared in other international festivals and some belong to little-known cultures in Cuba, therefore, each presentation will be a master class in dance," the Camagua director assured the press.
For his part, the president of the International Organizing Council of Folklore Festivals, Mr. Philippe Beaussant, thanked the event for being welcomed and added: "It is a very important moment to be able to really say that all together we can go further, assume a world better, for all the people and for the Cioff . I wish you every success; and that they carry out a good Festival, that they take advantage of and enjoy those wonderful folk groups, from all over the world, that are going to participate in that 1st International Virtual Camagua Folk Dance Festival".
The event will be dedicated in a special way to the young Rodolfo Caraballo Quevedo, recently deceased, who was the graphic designer of the same. Its realization in the midst of the current epidemiological conditions that the country is going through is a novel experience for Camagüey, and a challenge, said the director of Culture Tamira González, because although in times of pandemic other online cultural actions have been carried out, none have been of the scope and dimension of this meeting of dance groups of the world.
The Cioff is a non-governmental organization, official collaborator of UNESCO, accredited by the Committee for Intangible Cultural Heritage (PCI). It was created in 1970 for the safeguarding, promotion and dissemination of traditional culture. Currently, the membership of the world Cioff comprises 104 countries around the world. It is estimated that more than one million people, including some 30 thousand folk music and dance groups and popular arts organizations associated through their world national chapters. (Taken from Granma) (Photo: Festival's FB profile).