Wednesday, January 13, 2021
Traffic accident in Florida, Camagüey, leaves one deceased
---
---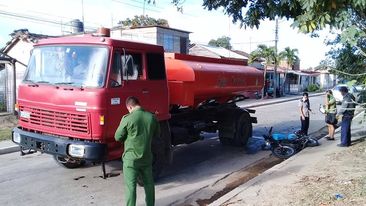 Florida, Camagüey, Jan 13.- A traffic accident that occurred during the afternoon of this Tuesday in the main city of the municipality of Florida caused the death of one person and another is hospitalized in serious condition with danger to his life.
The unfortunate event occurred when a communal services truck during an overtaking maneuver on Francisco Vicente Aguilera street hit a MZ 251 motorcycle with two people on board.
As a result of the accident, the 24-year-old citizen Yenisleydi González Braji lost her life, who was traveling on the impacted motorcycle along with her partner, the 30-year-old citizen Yadian Manuel Valdés, currently admitted in serious condition with danger to his life in the Manuel Ascunce Domenech Provincial Hospital in the city of Camagüey.
At the end of this information the authorities and specialists of the Ministry of the Interior in the municipality of Florida are still investigating the causes that caused this traffic accident that occurred during the afternoon of this Tuesday in the municipality of Florida. (Text and photo: Yunier Soler Castellano / Radio Florida)