Friday, January 15, 2021
Health protocols are reinforced in tourist facilities in the city of Camagüey
---
---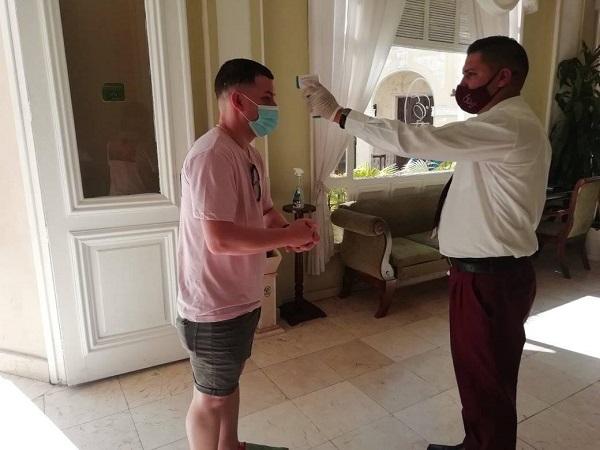 Camagüey, Jan 15.- Although for several months the tourist service in Cuba incorporated new protocols to reduce the possibilities of contagion with Covid-19, the Cubanacán City hotel complex, in Camagüey, reinforces the previous provisions, in keeping with the worsening of the epidemiological situation in the province.
Juan José Díaz Tong, director of these facilities in the city of Agramontina, explained that as a result of the reduction in flights from abroad, the influx of foreign customers has decreased, who are required to present the negative PCR, a requirement also in force since on January 10 to cross the Cuban border.
Both this segment and the domestic market are strictly monitored at the Santa María hotels and El Colonial, the only hotels of the E brand in Cubanacán that currently provide services in the territory.
Taking the temperature with a digital device, the disinfection of hands with hydroalcoholic gel, the constant cleaning of surfaces such as tables, bars, room furniture and other objects of common access, and the use of the nasobuco if gastronomic offers or cocktails are among the mandatory actions.
Cubanacán hotels in the City of Camagüey hold the certification of the most hygienic and safe Tourism, and there are six accommodations, to which the recently concluded San Juan de Dios must be incorporated, although due to the situation with the Covid-19 they provide limited services, in order to preserve the health of clients and workers. (Text and photo: Juan Mendoza Medina / Radio Cadena Agramonte)