Sunday, December 4, 2011
Final Declaration of Caracas Unanimously Approved by the CELAC
---
---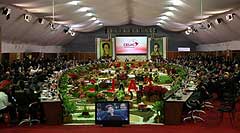 Havana, Cuba, Dec 4.- The summit to establish the Community of Latin American and Caribbean States (CELAC) wound up on Saturday in Venezuela with the unanimous approval of the Final Declaration of Caracas and the handing over of the chairmanship to Chile.

The presidents, prime ministers and heads of delegations of the 33 countries making up the new regional organization expressed a common stance while ratifying their agreement with the 18 documents discussed during the two-day historic meeting.      

Likewise, the Plan of Action of the CELAC was agreed, which, specified Venezuelan President Hugo Chavez, should be honored by all member nations, particularly by the members of the so- called troika (Venezuela, Chile and Cuba: outgoing country, new pro tempore chairman, and the next venue, respectively).

Two communiques can be found among the 22 documents signed, one on the need to put an end to the economic, commercial and financial blockade of the United States against Cuba, and another one on the recognition of Argentina's right over the Falklands.

In addition, participants approved a special declaration on the defense of democracy and constitutional order of the countries composing the CELAC.

Political texts referred to commitment to social inclusion, food and nutritional safety, the situation of the human rights of immigrants, and the sustainable development of the Community of Caribbean States (CARICOM), were also agreed.

Other documents signed include texts supporting the Yasuni-ITT-CALC-CELAC ecological initiative in Ecuador; and the Central American emergency situation due to tropical depressions. Participants also agreed to declare 2013 as the international year of the quinoa (edible grain from Bolivia).

Also, documents reflecting support for Central American security strategy, and the total elimination of nuclear weapons were signed.  Support for the struggle against terrorism in all forms and expressions, and the struggle against the world problem of drugs and drug trafficking were also among resolutions agreed. (acn).